The EVAN ARCHIVE is a platform to share digital data from specimens. It was created for researchers who work with 3D volume and surface data of skulls and faces, but also post-cranial elements. The collection mostly comprises Computed Tomography (CT) scans and surface scans of primates and some other mammals. There are also some fossil specimens available. We use NESPOS as database engine to store and retrieve data. There is an EVAN Member Space, accessible only to members of the EVAN-Society, and an EVAN Open Space that other NESPOS users can access as well (see the chart below).
Further contributions are thus welcome !
(For data and images you upload you may opt to allow access either to EVAN-Society Members only or to EVAN and all NESPOS users).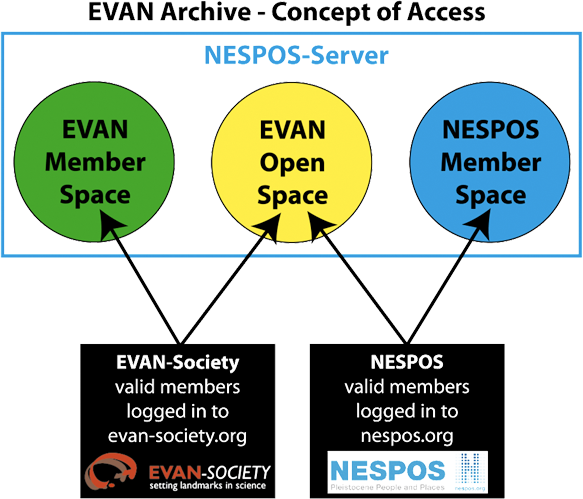 If you would like to get access to the EVAN Archive with 3D data of primates and other mammals, or obtain updated and compiled components (executables for Windows, Linux, or Mac) of the EVAN Toolbox (ET), including more documentation and tutorials, exhaustive test data, a set of pre-defined templates for analysis (VPNs), or access the discussion board, trainings, and meetings, then please join the EVAN-Society.